If we had listened to the doubters, we would still be saying no and apologizing to people, people just like you, craving a profitable solution to end the on-going waste of energy.
With a firm belief that a challenge never comes without an opportunity and that impossible contains possible for a reason, our promise is to keep putting all our energy into innovating and inspiring for a brighter future. For all.
A cheesy yet true conclusion: One person can't do it all but everyone can do something. Our something is to provide profitable energy recovery solutions in challenging environments.
We're on a journey to reduce the global CO2 emissions by 500 megatons annually – one percent of the estimated global emissions by 2050.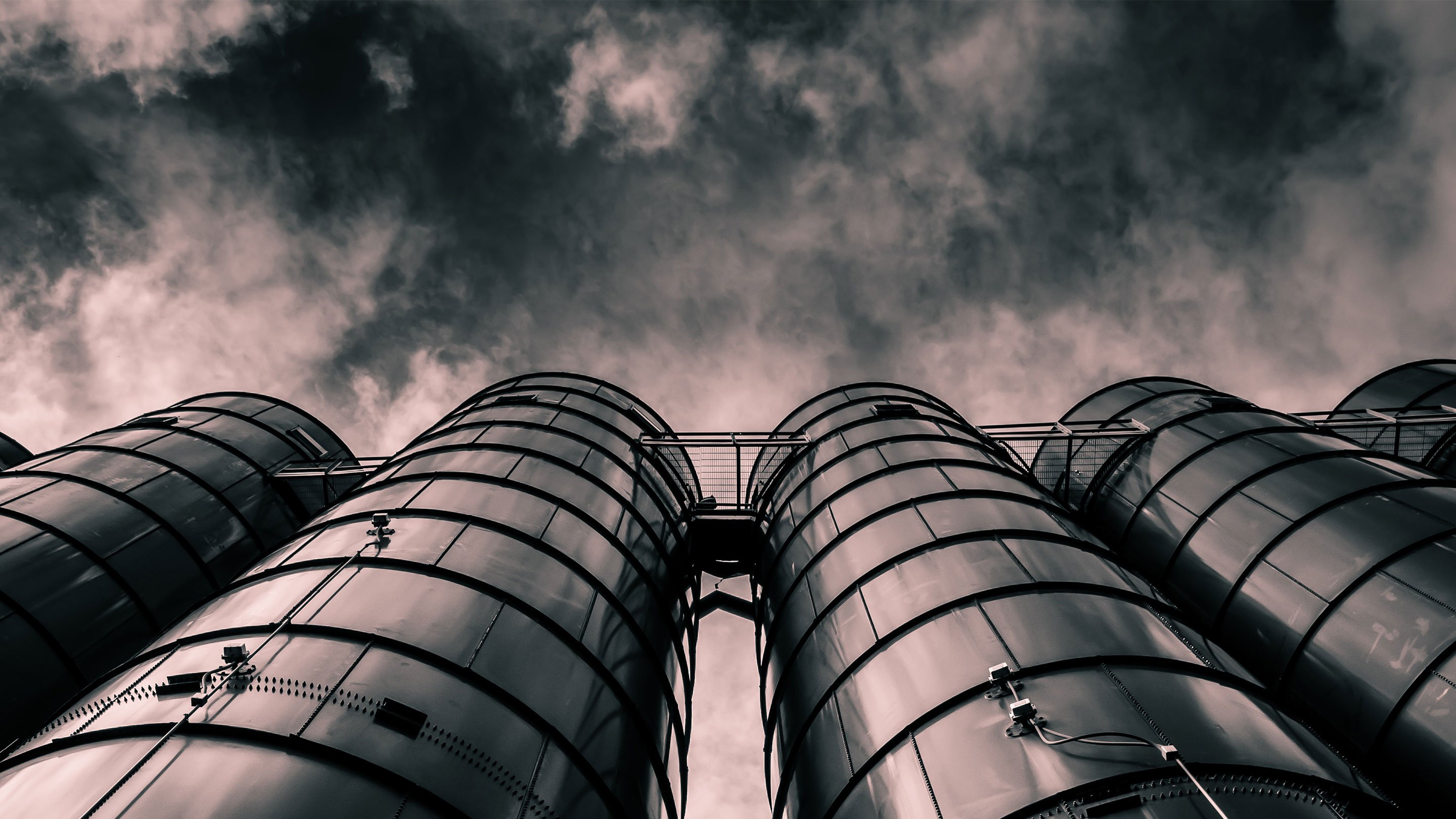 99 problems but energy recovery ain't one
"The worst filter in the world ended up helping to save the planet"
Nils Lekeberg
Vice President and Founder of Enjay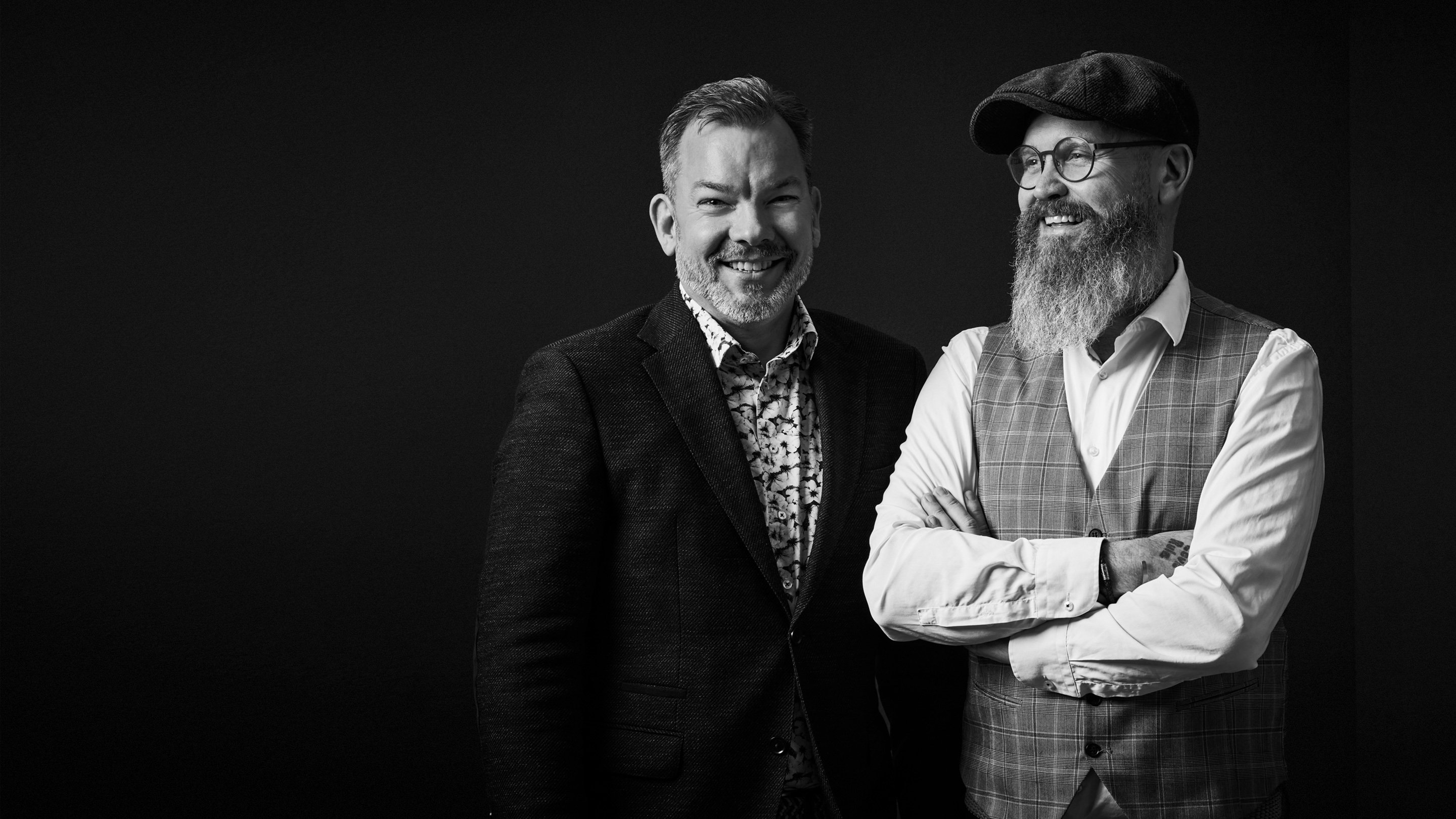 The tale of Enjay
The two friends Jesper and Nils could have just made up one of those laid-back, super inspiring start-up stories. But the truth is, it's been far from a walk in the park. The tale of Enjay takes you on an action-filled journey from failure, doubt and despair towards hope, a pinch of hubris and the longed for wind of change.
Back in 1999 in Malmö, Sweden, when most people were discussing "Notting Hill" or trying to get a new high score at Snake on their Nokia 3210, Jesper's mind was somewhere else. He was busy thinking of something as cool as air cleaning for restaurant ventilation systems.
Even though he did play his fair share of Snake, he couldn't stop daydreaming about air cleaning for restaurants and hence decided to start a company focusing on just that: UV technology trying to solve the problems that restaurant ventilation was facing. The use of UV technology got quite popular and as the demand increased, in the mid 00's Jesper decided to sell the company to a Swedish industrial group.
As his passion for ventilation solutions, which by many was seen as odd, didn't seem to fade away, he kept working for the company for a few more years until he felt an extreme wanderlust that led him to move abroad while further exploring the potential of the UV equipment.
The product was, back in the days, described as something as beautiful as "air cleaning for restaurant ventilation". Jesper's favourite advantage of the product was that it could substantially reduce the build up of grease layers inside the ventilation duct, since these are a great fire hazard and the culprits behind many catastrophic all-consuming fires in buildings housing restaurants. The product had other advantages as well, such as decreasing the odour from cooking, which was great for restaurant owners.
Even with numerous awesome advantages over conventional solutions and a more or less fashionable look, all customers got hung up over the same thing: Could the UV cleaning actually be used to protect energy recovery units from all the sticky grease?
Well, at this point, no one knew for sure. Not even Jesper. To get an answer to that daunting customer question, a long-term pilot test was carried out together with Sweden's largest manufacturer of energy recovery equipment. Unfortunately, the test failed. It became clear that the UV cleaning equipment had three major flaws. It didn't manage to remove sufficient quantities of grease, the equipment required extensive maintenance and last but not least: it was too expensive to become profitable.
When Jesper realized the fact that the UV-product could not protect the precious energy recovery system, he got stuck on disappointment.
Luckily, his super optimistic companion Nils Lekeberg helped him get back on the horse by shining a light on that the product still had a lot of benefits from a fire hazard and odour reduction standpoint.
For the best part of the next ten years, the two friends kept selling the product, focusing on those benefits. It would have been a splendid time if it wasn't for the fact that no matter where in the world they went, the same question kept on haunting them. End users, installers, property owners and technical consultants, they all kept wondering the same thing:
"Is there a way to recover energy from restaurant ventilation?" To keep saying "no" and claim that "it's impossible" was hurting more and more for Jesper and Nils every time.
The one thing their product couldn't give the customer, was exactly what the customer wanted. What a pickle.
The frustration reached its peak in 2015 when Nils had a meeting with a large technical, HVAC consultant in Sweden. During the meeting, the same old question came up for the thousandth time:
"So, I guess we can use the UV product to protect energy recovery units in order to stop wasting energy?". Before answering the question, Nils modestly excused himself from the meeting, rushed out in the corridor and dialed up Jesper, who at this point did his best to temporarily cope with his frustration by selling BBQ equipment over in Dubai.
"I have replied NO to this question for the last time! All our customers are telling us what they want and that no one can deliver it. With our unique expertise with grease in restaurant ventilation systems, who can solve it if not us? Come home, we're doing this!"
Baffled and a bit confused, Jesper had no other option than to obey his friend's order. After all, Nils sounded pretty confident when saying that coming home was a good idea. It did not take long before Jesper reluctantly said farewell to his Dubai glory days, jumped on a plane and did his best to prepare himself for the cold and dark winter one would expect in Sweden.
With a well balanced tan and a a pinch of jetlag, Jesper brewed himself a cup of java and met up with an overly excited Nils, proudly standing in front of an old school building in Stora Harrie, Sweden, which he had managed to get a pretty sweet short term lease on.
"We've got all day. Now, let's get to work and solve this problem once and for all", Nils said.
In retrospect, one day may have been a bit optimistic, as months and months were spent in the old school building, now referred to as the innovation headquarter, trying out hundreds of potential solutions, determined to succeed where others had failed, creating a filter solution for energy recovery designed to work in the most aggressive environment out there – restaurant ventilation systems.
Blood, sweat and tears were shed in the fight against grease, soot and heat. After countless litres of coffee and failed attempts, Nils learned from a scientist how the CERN particle accelerator uses cold metal to attract super duper small particles in order to create absolute vacuum. And "if they can do it so can we" the two inventors humbly agreed.
By freezing the coils and using the qualities of condensation, Nils and Jesper were now convinced they had solved the unsolvable and were looking at the world's greatest filter. Early next morning, excited like never before, the two friends started to test out their world-changing invention. The pulse was high, the celebrations planned out and the sweet taste of success was noticeable.
"Now, let's see how this bad boy performed", Jesper said. The result? NOTHING. Literally NO grease or soot seemed to have stuck to the coils. What was supposed to have been the greatest filter ever created turned into the world's worst filter in a matter of seconds. Talk about anticlimax. The only thing this so-called filter had been able to capture, was massive amounts of energy.
"What a disappointment!", they had a few seconds to think before it suddenly hit them like a bolt from the blue. What if they instead of keep trying to build a filter that eliminated grease and soot, would flip the theory around and build a recovery battery with no need for protection and thus suitable for extreme environments? There it was. The eureka moment they had been waiting for.
In the months following the intense eureka moment, Jesper and Nils yet again got down to business, working around the clock in their modest little school building, not to build another filter, but the world's first energy recovery unit with no need for protection in hostile restaurant environments.
The two friends were filled with hope and energy. So much energy that they occasionally forgot to enjoy their cup of java in between polishing their revolutionary invention and practice on their speech to be held after receiving some sort of gold medal from the king of Sweden.
Not that he had yet reached out, but he was expected to do so in the near future. At least it felt that way. In just the right time, as Nils and Jesper's friends and family were planning a "stop spending all your time in that dusty old school building" intervention, the day finally arrived.
There it was on the somewhat dirty floor in front of them: The very first Lepido prototype ready to be tested. Sure, people didn't seem to be super impressed by the result of spending years in the so called innovation headquarter, as it for the great majority seemed to just be a random metal box that someone, well, had spent way too much time polishing.
But for Jesper and Nils, who had the capability to think "inside the box", what they saw in front of them was an energy revolution in its purest form.
Not only because of its sharp edges and shiny look. Nah, it's the inside that counts. How do things like improved aerodynamics that allow for the airborne grease particles to simply pass straight through the recovery battery, without colliding with the metal surfaces sound?
That's right. Pretty awesome. "Now, let's see how our prototype performed", Nils shouted even though Jesper was literally standing right next to him. Excited like children on Christmas, ready to pop the Champagne and indulge in at least a few high-fives, they started to analyse the results.
DAMN it. In a matter of seconds it felt like their world had fallen apart.
Or well, in retrospect that might be a bit overdramatic. No matter, the results were actually very impressive. But impressive isn't the same as perfect. Beyond building an effective solution, it was of great importance that the maintenance fees wouldn't go "through the roof". In order to have a real impact, it had to be profitable for the customer. So, their baby had a blindspot. Even with its world-leading aerodynamics, Jesper and Nils reluctantly had to admit that not even they could fully cancel out the natural laws of physics, resulting in that some particles, not many but some, over the course of a day will collide and adhere to the surface.
As you probably can guess by now, they didn't risk it all only to be able to tweak the "no" into a "maybe" or "well, almost".
Perfectionist as they were, they kept on going. Outside the window they could see jolly holidaymakers load their bags into their cars and drive away towards their vacation destinations.
Nils and Jesper stayed, doing everything they could to fight the laws of nature. Weeks passed and the frustration grew. They were running on fumes at this point and struggled to stay focused. They soon reached a point where they realised that they had to leave the headquarter for a while and get some perspective. Even though it felt like an arrow in his heart to open up the discussion, Nils carefully suggested that perhaps they should start thinking about settling with what they've got. After all, the Lepido did indeed perform very well. Jesper didn't respond.
A few weeks later, when both Nils and Jesper had done their best to imitate vacation mood, they were forced by their families to, at least, let go of Lepido for one day: Midsummer, Sweden's greatest holiday. They both agreed. Friends and family gathered. The sun was shining bright and a few hours passed without that overwhelming feeling of the Lepido frustration. After hours of silly games, dressing the maypole and a few rounds too many of "sill and nubbe", pickled herring and small shots of strong liquer, it was finally time for the highlight of the evening: barbecue bonanza.
While the potatoes were in the oven and the marinated meat was ready to hit the grill, something, as unexpected every Midsummer even though it happens every Midsummer, happened: the sky opened.
The rain was pouring. And pouring. After about half an hour of the blame game (end result: it was the weather guy from the news's fault), they realized that the barbecue had to be postponed until another night.
The marinated meat went into the freezer and the celebration continued until early morning. The next day, the bright summer sun had returned. As Nils had spent the night dancing around the maypole, he woke up a bit later than usual. When he entered the kitchen, he saw that one of the early birds had already taken out last night's marinated meat from the freezer to thaw. "Perfect", he thought as hunger suddenly hit him. He asked Jesper to prepare the grill as he approached the meat that he had carefully marinated the night before. What he saw shocked him.
The people who were there claims that Nils was running around the house like some kind of maniac, shouting with pure joy.
Up until this day, Nils still refuses to comment on those allegations. What Nils came to realize when looking at the bag of thawed meat up close was that the meat was no longer marinated.
Somehow the freezing had led to the marinade falling completely clear off the meat, just laying there at the bottom of the zip bag.
"This changes everything. This is it. The missing piece. Never again do we have to say "no" to that daunting question. Mark my words", Nils told Jesper with a huge smile on his face.
Already the next day, the two friends were back in the same old school building in Stora Harrie where it all started, laser focused and excited like never before. A lot of people would probably have given up about ten failures ago, but for the optimistic duo Jesper and Nils, it was almost like all those setbacks faced along the way had never even happened.
After all, not only had they managed to come up with a (semiaccidental) solution for the perfect aerodynamics to be used in restaurant ventilation systems. They had also managed to perfect what many still as a metallic box and if not fight, at least fool the laws of nature, by solving the seemingly impossible: a state of the art self-cleaning system leaving their unit almost maintenance free.
As they both were eager to start spreading the word about their invention making energy recovery in restaurant ventilation systems not only possible, but profitable (and as a huge bonus could help saving the planet by reducing the CO2 emissions), they realized that their invention was only a theoretic success until proven otherwise.
It took them a year further of testing and development until they finally had a full-scale prototype ready for installation. As both of them personally had told hundreds of customers throughout the years that what their invention now all of a sudden claimed to have solved wasn't possible, they realized that the test project had to be carried out in the one place the industry often referred to as an "impossible case": The home of the flame-grilled burger, Burger King.
"Why not keep challenging what's claimed to be impossible? Our first test simply has to be carried out at a Burger King restaurant. If Lepido is shown to be efficient in their grease and soot intense environment, we're all set!", Jesper argued. After some persuasion, a courageous franchisee of Burger King Sweden was on board.
In November 2016, the first full scale prototype of "Lepido" was commissioned at Burger King's Bulltofta site in Malmö. So, how did it go, you may wonder? The short answer: it was a great success, way beyond Nils and Jesper's wildest energy efficiency dreams.
Up until this day, the Lepido has robustly delivered the same amount of recycled energy as it did on day one when it was pristine and newly commissioned, operating fully autonomously, without any maintenance from staff required. Words can't even describe the emotions felt by Nils and Jesper when the impressive results came back.
They had now reached the point they had been dreaming of since back in the 90's. Not only had they solved what they once were told was impossible, they had solid proof that their invention worked as great as they hoped it would in the real world.
From that point on, the team quickly expanded, aiming to start batch production in order to meet the fast-growing demand from customers who heard the rumor of Lepido's successful Burger King pilot. Their invention had gone from a metallic box to becoming a crucial part of the energy recovery revolution in a matter of months.
After a team effort out of this world, the Enjay family managed to get Lepido ready to market by the end of 2018. During the first customer meeting, soon after the two unique Lepido patents had been approved, the question that had been haunting Jesper for all those years came up once again:
"So, can we use Lepido to recover energy from restaurant ventilation systems?" said the highly respected industry executive sitting in front of Jesper in a somewhat skeptical tone.
The time had finally arrived. Jesper could feel the adrenaline pumping when realizing that he had answered "no" to that freaking question for the very last time. "Yes", Jesper said with great confidence as he felt how a decade of tension releasing his shoulders.
"Not only will you be able to recover the energy, you will also be able to cut costs and help lowering the global CO2 emissions while you're at it!" he added.
Fast forward to the year 2020, several acknowledgements and happy customers later, Enjay is on track to revolutionize the industry on a global scale. What started off as probably the worst filter in the world is now enabling energy recovery, monetary savings and last but not least to help save our planet. And this is not even the end of the beginning.
In order to reach our lofty goals, we need more bright minds with an "impossible is nothing" mentality to join the Enjay family to help us write the next chapter. Browse our open positions here.
As you probably know, the name of a world-changing start-up is quite important, so keeping the working title "Nils' & Jesper's Energy Recovery Company" was out of question when reaching the point of a successful prototype.
After hours of a classic whiteboard creative session with the goal to come up with the perfect company name, they had…nothing. As they just managed to turn the impossible into possible when it came to energy recovery, the failure of coming up with a proper name that stood out and semi-explained what they're doing was pretty frustrating.
"Well, let's have another cup of coffee and continue another day then", Nils suggested. Jesper sat quietly in his chair staring at the empty whiteboard.
Just when Nils were about to leave, Jesper excitedly said "How about AENJAEY?". Nils looked at Jesper, wondering if he had an on-going stroke. "AENJAEY? What are you talking about?" "No, ENJAY! "N" and "J" in English. You know, for Nils and Jesper? I think it has a really good ring to it and it's pretty close to "energy", what do you think?" "ENJAY! Hmm…I don't think it's good.", Nils said with a grin on his face as he could clearly see the disappointment in Jesper's eyes. "I think it's perfect! We're ENJAY and we're about to put an end to the global energy waste, one Lepido at a time". Mic drop.